Welcome to Our Ford Parts Department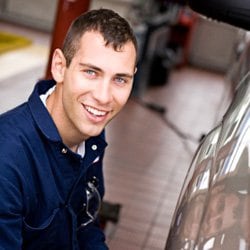 Find The Ford Parts And Accessories You Need At Wittmeier Ford
Whether you're the type of DIY at-home mechanic that loves fixing your own vehicle or you're interested in adding on the Ford accessory that you've always wanted, the parts center at Wittmeier Ford is here to help. Not only do we offer a wide array of genuine OEM Ford parts to keep your Ford model running strong, but we also feature many available Ford accessories that will make your drive as easy as possible.
Purchase The Right Part For The Job
Is your Ford F-150 in need of an oil change? Do you need a brake pad or rotor replacement on your Ford Escape? Has the a/c stopped working in your Ford Focus? We can help you find the right Ford parts for whatever routine maintenance or larger repairs your vehicle requires.
Add On The Perfect Ford Accessory
We also have a long list of accessories for both the inside and outside of your Ford vehicle. Looking for the right roof rack to carry your kayaks or beach gear? Do you want to protect the cabin of your vehicle from whatever cargo you'd like to carry? Is there a type of car electronic that your vehicle didn't come with, but you'd like to add now? Search through our available accessories to see if any of our Ford additions would be right for you.
Visit Wittmeier Ford To Learn More
If you have questions about our parts and accessories, feel free to contact us to stop by our Chico, CA, dealership. We're located just a short drive from Oroville, Gridley, Paradise, Orland, and beyond, and we'd love to help you find the right part or accessory for you today!